Portfolio Optimization and Efficient Frontiers in R
If you want to frustrate someone for a day, give them a program. If you want to frustrate them for a lifetime, teach them how to program.
A brief overview of how to use R to generate the analysis and plots in the most recent post, Gold as Part of a Long-Run Asset Allocation, using R, and code shared at Systematic Investor.

R is a powerful open-source statistical analysis package, a free version of products like SPSS, SAS, S-plus, to some extent MatLab (MatLab may target mathematical modeling more generally, not just statistics). R doesn't do symbolic math, ie algebraic formulas, integration, differentiation etc., for that you can use Mathematica, Maple, Sage, Maxima.
R is basically Excel on steroids. R is very powerful, and beating your head against the wall using R will open many doors to… more powerful ways to beat your head against the wall using R.
Step 1. Install R. Get it here. Also recommended _ install RStudio. This gives you an integrated development environment, lets you browse history, data objects, help, etc.
Step 2. Let's get some data and plot a quick chart.
_ Launch RStudio (or R)
_ install 'quantmod' package (Quantitative Financial Modelling & Trading Framework for R). This provides the ability to download financial data, do backtesting, other modeling functionality. One of R's biggest strengths is that whatever you want to do, someone has probably already developed a module to do it, and it's already in the CRAN archive, one command away from being installed. (The downside is that often there is more than one way to do it, and it's hard to figure out the best way, for instance multiple timeseries and graphics modules)
You should see something like the below. More on quantmod charts here.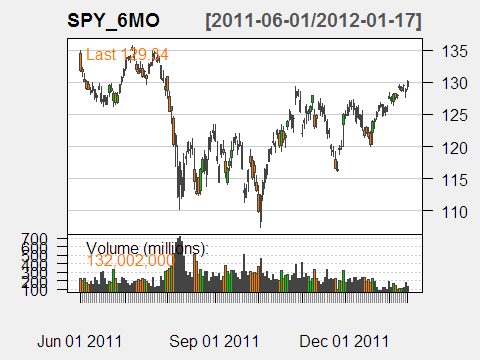 For documentation on quantmod and other functions, you can get help with
…etc. (remember, R is case-sensitive).
3. Data setup
Parts 3 and onward use the code in this longtermgold.r file.
Here, we create a data frame (matrix) of real returns, and report basic data on it.
4. The Easy Way
There's an easy way and a hard way. For the easy way, we will use the code generously shared by Systematic Investor. For the hard way, we'll go through the same steps, but writing our own code (inspired by the Systematic Investor Toolbox).
5. The Hard Way
Find max return portfolio using linear programming. This will be all stocks, the rightmost point of efficient frontier.
Find minimum-volatility portfolio using quadratic programming. This will be the left-most point of the efficient frontier.
Fill in all the points on the efficient frontier. Run a volatility optimization on a series of points between the two portfolios.
Finally, let's run the plots.
Efficient frontier plot:
You should see something like this: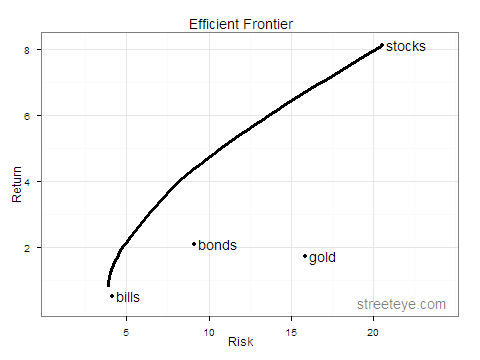 Transition map plot: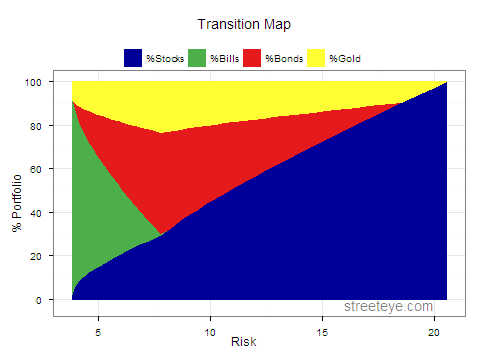 That's it…If you made it this far, congratulations! A few more R links to frustrate you are below. Now go forth, and enjoy beating your head against the wall!